Christmas shopping can be incredibly stressful! You could be dragging the kids around a shopping centre, or dragging the husband round the shops or trying to buy for that one person who will not tell you what they want for Christmas! -There is always one…
But trying to move house at the same time is enough for anyone to want to cancel Christmas this year. You've got to contend with removal companies being closed for the festive period and dragging the sofa outside by yourself in -5 degrees temperatures! It's just not a fun time for anyone. However here at Norgrove Sales & Lettings we have come up with a couple of ideas to make Christmas day worth it for all those moving house, here are our top 10 gift ideas for anyone moving house!
A WELCOME MATT
Nothing is more inviting than a welcome matt that leads into your brand new home, It's one of the first things people will see when they come to see your shiny new pad so this is a must.  You can get a matt that goes inside or outside but whatever you chose make sure you buy one that's sturdy and is going to last a while. There will be a lot of feet and maybe even paws walking over the matt so choose a strong one that will do the job. For anyone moving house, you can guarantee that this will be a present that is appreciated.
THEIR FAVOURITE CANDLE 
It's not uncommon for a new home to smell of dust and someone else's cooking, especially if it's been on the market for a little while. So, a great present idea would be to buy your giftee a lovely candle, maybe do a little bit of research and find out what their favourite
 is. Candle's are ideal, especially if the person you are buying it for is especially stressed with the move so close to Christmas. This way they can then sit in their new living room with the candle burning or get straight into a nice hot bath and relax!
You can get candles from practically any store, and they can range in price from just a couple of pounds to £20-£30 for the top range products.
A POTTED PLANT KIT 
There are a couple of roots (Get it…?) that you can go with this one. First of all you can go for the artificial decorative plant. This is an ideal present for those moving home as it can instantly add a pop of colour and freshness without all of the maintenance. Another benefit is that they last all year round as well so will make a fantastic house warming present.
One prob
lem with artificial plants is that they don't produce that fresh floral smell. So another idea for a Christmas present for those moving house is to buy a fresh potted plant kit. You can get these from any garden centre or other high street shops during the Christmas period and you can get indoor and outdoor plants, so the choice is there. They can be really therapeutic for those who are stressed this holiday season and rewarding as you watch them grow. So a definite recommended Christmas present!
GORGEOUS GLASSWARE 
Once the giftee has finally got all the boxes shifted into the house and some kind of furniture arrangement going then they are most definitely going to want to just collapse with a takeaway and a drink. The cutlery and glasses are definitely going to be packed away somewhere in a mountain of newspaper in a box that looks like every other box. So a great Christmas present for those moving house would be a lovely set of gorgeous glassware. Nothing to fancy, just a lovely set of wine glasses or whiskey glasses or just glass tumblers depending on what they like to drink! 
PERSONALISED KEY RINGS AND KEY HOLDER
For those who are moving house this festive season, the likelihood is that you will be in and out of that house more times than you can say Merry Christmas! So it's very important that that person doesn't loose their keys and lock themselves out! That's where you come in with a fantastic Christmas present! Why not buy them a personalised key ring, that way it will help them to not forget their keys every time they leave the house but will also provide that magical Christmas feel by adding that personal touch!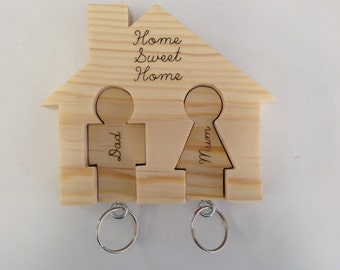 Even if you just personalise the key ring with their initials they are sure to be grateful and full of love! If you are feeling a little more festive then why not pair the personalised key rings with a personalised key holder. Now that they've got their keys they will need somewhere nice to hang them ready for next time when they need to fly out of the door!
FAMILY CALENDER
Time waits for no man! Or woman for that matter, so even though they may be in the midst of trying to squeeze the fridge into an insanely small space or trying to get the photos of the kids to hang straight on the wall, they will still have 101 things they need to do before the end of the month. So, whilst everything is upside down a great gift idea would be to buy them a family calendar. That way whilst they are moving and have a million and one things running around in their head getting them a calendar will help them get everything back in order as soon as possible and bring about a bit of calm to the house move!
A BASKET OF SWEET TREATS! 
This present will go down a treat, especially on the first few days of the house move! Moral is low and everyone just wants the whole thing to be over, wishing that the pictures would just hang themselves by now… But tell them not to worry! For Christmas why don't you get together a little collection of their favourite sweet treats in a basket and gift it to them for Christmas! Why not add that personal touch and do a little baking, a couple of cookies and festive ginger-man biscuits will be a big hit with anyone and everyone! It's sure to provide them with a little pick me up whilst they are stressed.
HANDY COASTERS
Who doesn't love a good cup of tea or coffee, or even a hot chocolate after all the hard work is over. Everything is finally in the house, all the boxes are unpacked and all the sofa is finally arranged in the perfect place.  But you don't want to ruin the new coffee table that you specifically bought for the new house! So a wonderful stocking filler present this year would be a cute little set of coasters, perfect for decorating their new home but also protecting that wonderful coffee table. Say no more to coffee stains or ribena stains from the kids. The good thing about this present as well is as long as you go general design you can use them all year round! Remember… A coaster is not just for Christmas, it's for life!
BRAND NEW CUSHIONS 
We can guarantee as soon as that sofa or bed is in place then the people moving house will definitely want to flop and  have a little nap! So, a great idea for a Christmas present would be some brand new cushions. You might have to a bit of research and find out if they have a colour scheme going on in the living room or bedroom, or if they don't try personalising them
a feature cushion for their bed or living room! It is sure to make the room pop and cosy for anyone who is fortunate enough to stay in the house! You can get this done on the high street or there are a number of online printing services who can do this for you for a relatively low cost! They will also add that little finished touch to a property whilst also providing a nice comfy surface on which to flop out on at the end of the day!
HOME SWEET HOME
Why not try putting together a lovely photo frame together of their memories and cute pictures to remind them of the calm that will come once the house move has finished. You can get a photo frame pretty cheap from any high street shop and can get pictures printed at home or even at your local library. Then you can just stick them to a piece of backing paper and frame them to give someone a wonderful decoration piece to look at every day. Similarly there are a number of online retailers who will make the collage for you, print it and send it as a gift to your chosen recipient!
If you wanted to splash the cash a bit more for those extra special people. why don't you try buying them a digital photo frame? They can hold many more photos and will slide by one by one so they can sit and reflect on all their wonderful memories. these can range from around £25- £50.
SO there you have it, 10 gift ideas for anyone who is moving house this festive season or new year. If you've got any ideas comment below and let others know if you have any other fantastic ideas!
From all the team here at Norgrove's have a wonderful festive season!