100 Years of Women's Right to Vote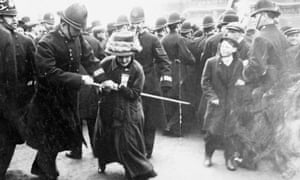 "Black Friday", 18th November 1910 as 300 women attempted to enter parliament to argue for their rights. After the ensuing riot, the government desperately attempted to cover up evidence of police brutality and serious physical assaults on the suffragettes, but the damage was done. For many of the women present, the government's use of extreme force on what had been a peaceful protest was the final straw. Women suddenly entered the public and political worlds in a way they had never done before.
Led by the Pankhurst family, the Women's Social and Political Union (WSPU) – the suffragettes – conducted a nationwide bombing and arson campaign unlike anything this country had ever experienced, or has seen since. Women across the UK carried out midnight attacks on MPs' houses, churches, railway stations and post offices armed with guns, bombs, and a belief that the only way to win the vote for women was to follow in the violent footsteps of men. Kitty Marion reduced the Sussex home of Conservative MP Arthur Du Cros to a burnt-out shell during one of her attacks and proclaimed: "If the government must have damage as a token that women want the vote, damage they shall have." Often driven by their experiences of sexual assault at the hands of bosses, the police and the government, many of those women chose to carry out a campaign of direct action.
Today we celebrate the first women getting the #RightToVote, and continue to make our voices heard for those who still do not, 100 years later. We are calling on the government to ensure all survivors of domestic abuse are able to register to vote anonymously, indefinitely. #100yearshttps://ind.pn/2gxP5M8